Categories:
Other Brands
One after another, Bottega Veneta figured out how to trigger out bag obsession. First they tease us with the new Piazza Bag, which an excellent shoulder bag mixed with smooth leather and Intrecciato. And now they have released the Bottega Veneta Montebello Bag in the beginning of this season. Not only is the name adorable, but the variations of styles are gorgeous too.
The Design
The Montebello Bag is everything but boring. You can have yours in solid color, but there are more exciting choices available. For example in beautiful multicolor pink or with flower embellishments.
This bag is designed in squared shape and it's basically a compact clutch with chain. However, it's also perfect to use as a daily shoulder bag because it comes with a chic-yet-practical chain strap.
The body of the Montebello Bag is crafted with hand-woven nappa, it gives the bag a luminous touch. The solid colors are made from metallic-effect nappa, which gives the handbag the shine it needs to help you flaunt.
More over, because of its lightweight, this bag is easy to hold from day to night. The Intrecciato Nappa design is screaming Bottega Veneta whenever you are on the go. It's ideal for daily use but also for special occasions because it looks both chic and classy.
The Interior
Open the trimmed-smooth-leather flap to get into the gusseted interior. The inside is quite simple and easy to help you organize. There are two compartments and the spacious is limited due to its size. Only basic essentials are allowed to get in.
The Prices And Sizes
The small size in metallic solid color is measured 5.9' x 7.9' x 1.8' (H x W x D) inches, priced at 1350 euro, $1700 USD, £1180 GBP via Bottega Veneta store.
Where To Shop The Bottega Veneta Montebello Bag?
1. Matches Fashion – if you want to find this bag online, you can go here.
More Images And Colors
comnum(0) tbcount(0) tbcount(385)
Categories:
Other Brands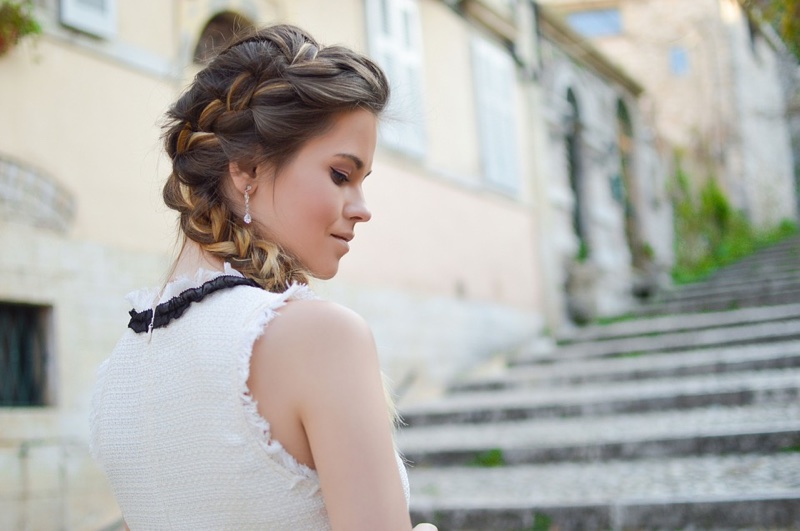 Photo: Pixabay
Braids are trending now in the fashion world. So many celebrities have showcased their unique braided hairstyles on the red carpet and on social media. While others had to go back to the drawing board trying to figure out something cool.
The beauty of braids lies in the fact that they go perfectly with any outfit. Whatever the occasion is, you can wear your dress and with a few tweaks to your hair, step out with plenty of elegance and style.
Whatever your face shape or length is, there is always a style for you. There are halo braids, plaited ponytails, French braids and even more casual fishtail plaits.
In the past, French plaits and pigtails reigned supreme. But in the quest to outclass each other both at events and red carpets, other stunning braid styles have been worn by on-trend celebrities.
The likes of Kim Kardashian and Rita Ora have constantly impressed us with their pimped up plaited hairstyles, and has shown the fashion world that braids are no longer the style for two-year-olds.
Braids are not just fashionable; they are one of the easiest options when your hair gets messy. If you are not sure what to wear to your next visit to the spa, and want a quick tweak to your old hair, braiding is certainly one way to go. All it takes to pull off a classic braid style is a good brush and hair straightener.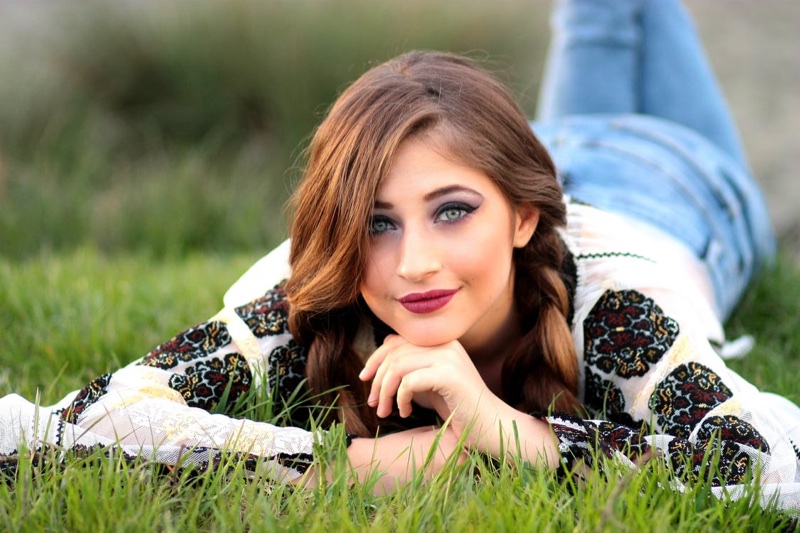 Photo: Pexels
Olivia Palermo is one fashionista that has always adored the fishtail plait; her mussed style combined with her polished wardrobe makes her look stunning no matter the occasion.
Another braid style that is constantly rocked by fashion girls is the halo braid. Florence Welch and Poppy Delevingne often wear this plait style. They also show this hairstyle can look great with a cocktail dress.
As the New Year unfolds, there are a lot of new hairstyles for the year you'll want to try. And you can look to the red carpet for some major inspiration.
Plenty of fashion houses predict that the current braid styles will be replaced by brand new styles we've never seen before. Here are three beautiful braid styles you should watch out for in 2018:
HALF BRAID CROWNS
Braid crowns are the next big thing to look out for in 2018. Lots of fashion girls are currently shifting from the very popular halo braid to something more classic and simple. The half braid crown originates from the French braid, but is a better way to wear your braids and stand out from the crowd. The braid crown is perfect for simple dinner gowns. The crown will frame your face for that perfect romantic look on a date or girl's night out.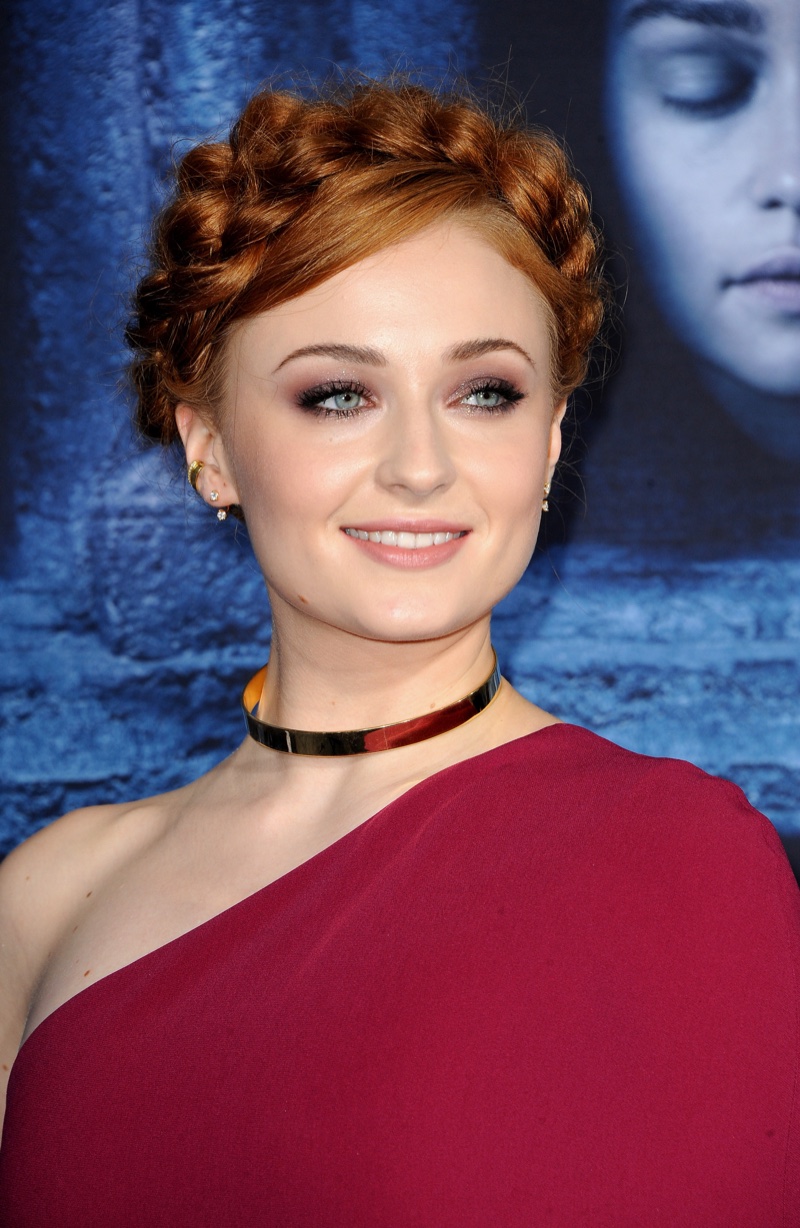 Sophie Turner wears Dutch braids. Photo: Helga Esteb / Shutterstock.com
DUTCH BRAID BANGS
You must have seen this style a couple of times and should definitely try it out. A lot of fashionistas are going to hit the red carpets with a bang adorning the Dutch braided bangs. There are different ways you could style Dutch braids; this makes it a goldmine for a lot of unique hairstyles.
The best part is that it goes works with any haircolor, you don't have to worry if you are red-haired, the Dutch braided bang is a perfect fit.
These braids are simple and require a deep side part and side sweep. You can go on to customize it to your own taste, making it a look all your own.
This style is perfect for long and clingy dinner gowns, this is why you will see a lot of Dutch braid bangs on the red carpet this year.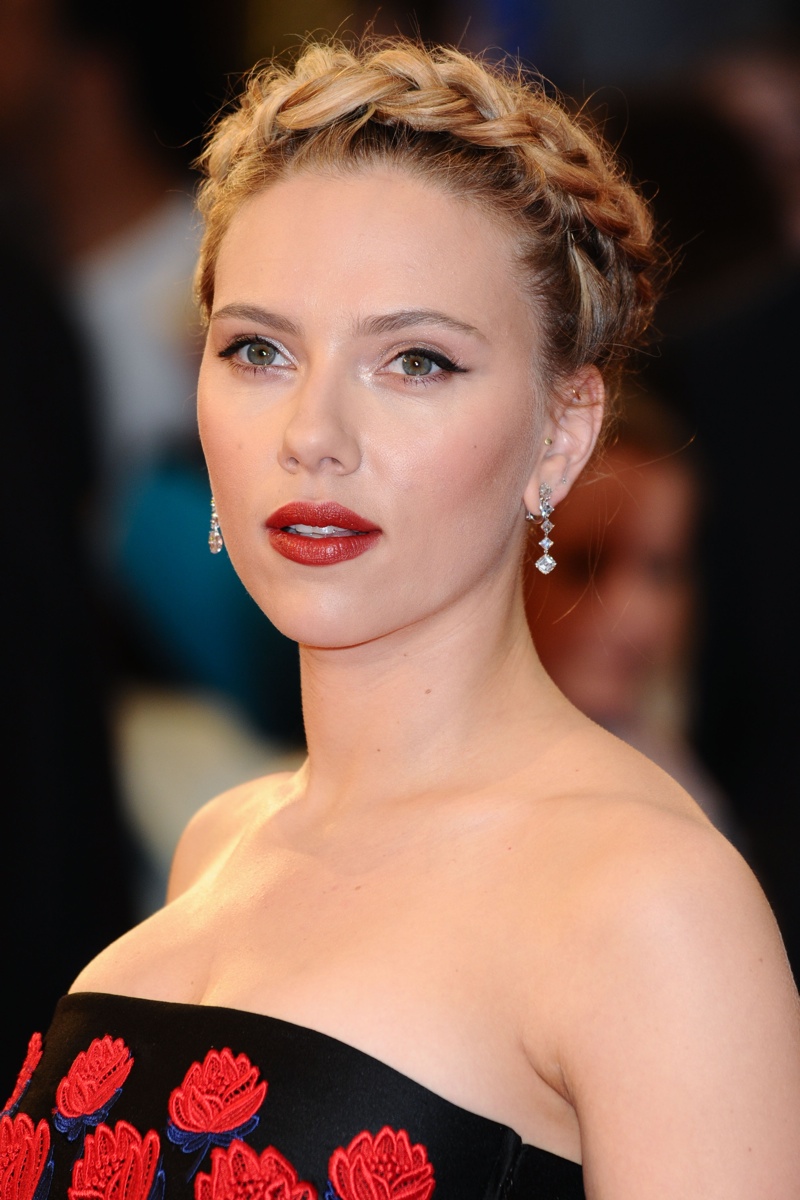 Scarlett Johansson shows off a blonde milkmaid braid. Photo: Featureflash / Shutterstock.com.
MILKMAID TWISTS
This is one plait style that has been underground for so long—-but will rise this year as a lot of fashion girls now seek simple yet classic hairstyles. Milkmaid twists are the right answer if you are looking to keep the wind out of your face on a gusty day. The braids are quite easy to hang and require just a good hairbrush to fold them in place perfectly.
This style also works for both long and short hairstyles, and is just the right braid for beginners.
Milkmaid twists bring out your face, and contour your cheeks to perfection. This makes it a good fit for official and corporate events.
However, it also works for more casual occasions. Plenty of fashion girls will take advantage of its daring features, and rock it to basketball games, outdoor activities and even casual lunch dates.
So watch out for the milkmaid twist; because this year will make it a major hairstyle.
comnum(0) tbcount(0) tbcount(376)
Categories:
Other Brands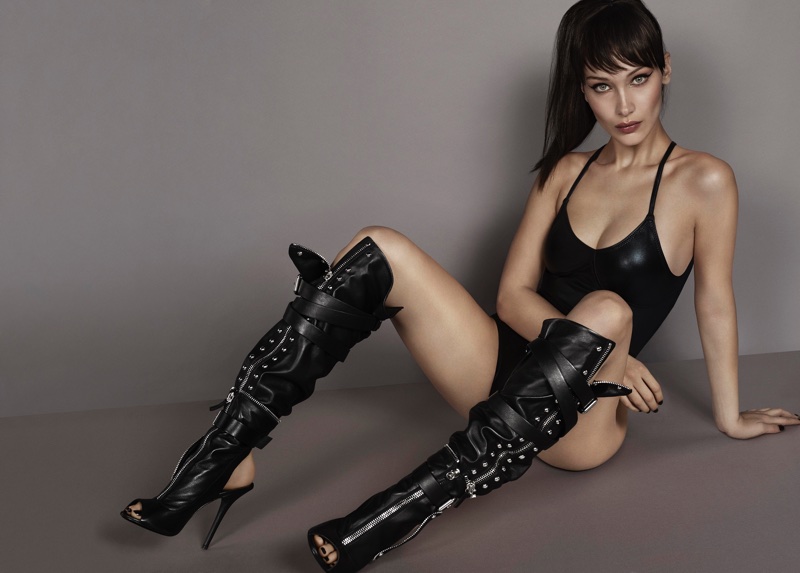 Bella Hadid stars in Giuseppe Zanotti's spring-summer 2018 campaign
Bella Hadid returns for her second consecutive season as the face of Giuseppe Zanotti. The American beauty appears in the Italian shoe brand's spring-summer 2018 campaign. Captured by Mert & Marcus with styling by Carine Roitfeld, Bella poses in a black bodysuit for the sizzling shots. The new season focuses on killer styles ranging from boots to sandals such as the 'Kendra', 'Eliza' and 'Aleesha'.
Related: Bella Hadid Returns for Max Mara's Spring 2018 Accessories Campaign
CAMPAIGN: BELLA HADID FOR GIUSEPPE ZANOTTI SPRING/SUMMER 2018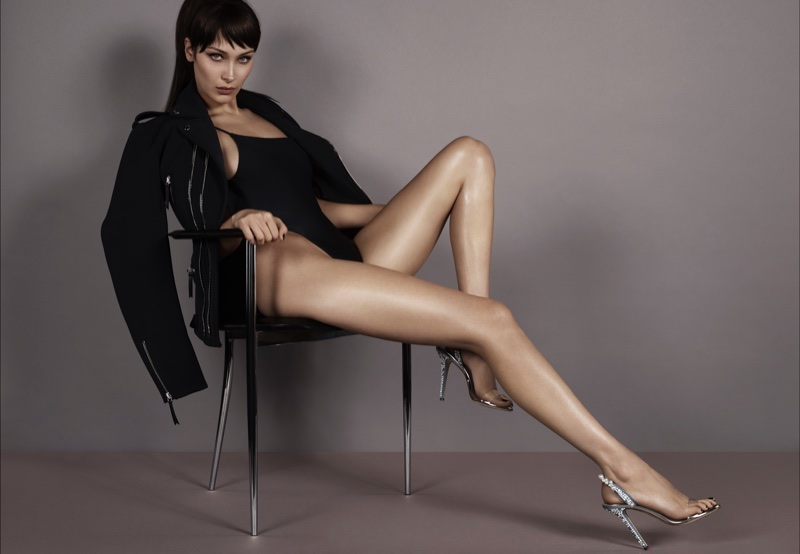 Giuseppe Zanotti taps Bella Hadid for spring-summer 2018 campaign
"This campaign really represents the authentic energy of the brand—modern, sensual, powerful. And then there's Bella, back for a second season, who brings with her a rock n' roll attitude that's also playful and seductive. The overall effect is compelling, contemporary, arresting."
Giuseppe Zanotti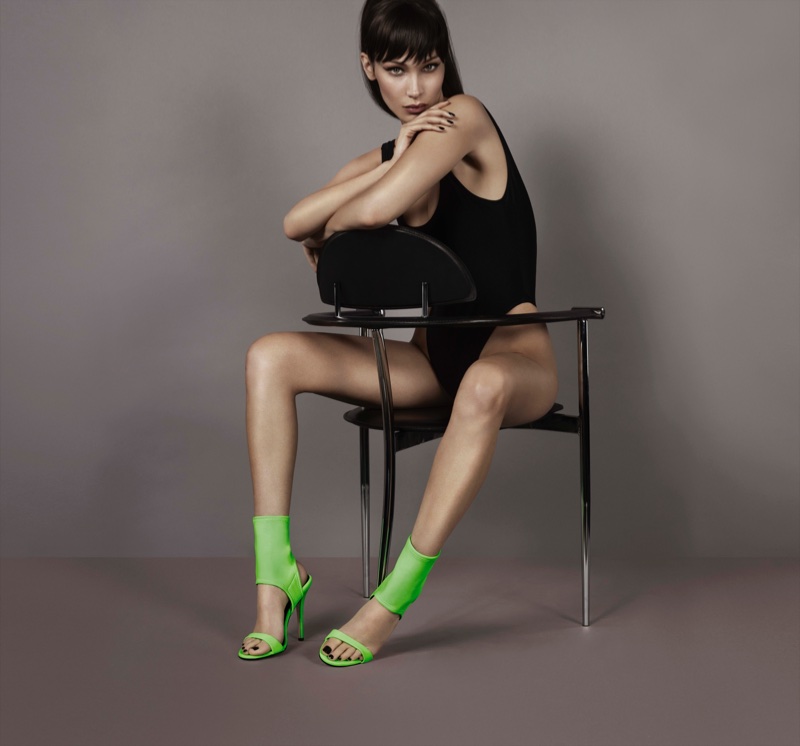 Model Bella Hadid wears green sandals in Giuseppe Zanotti's spring-summer 2018 campaign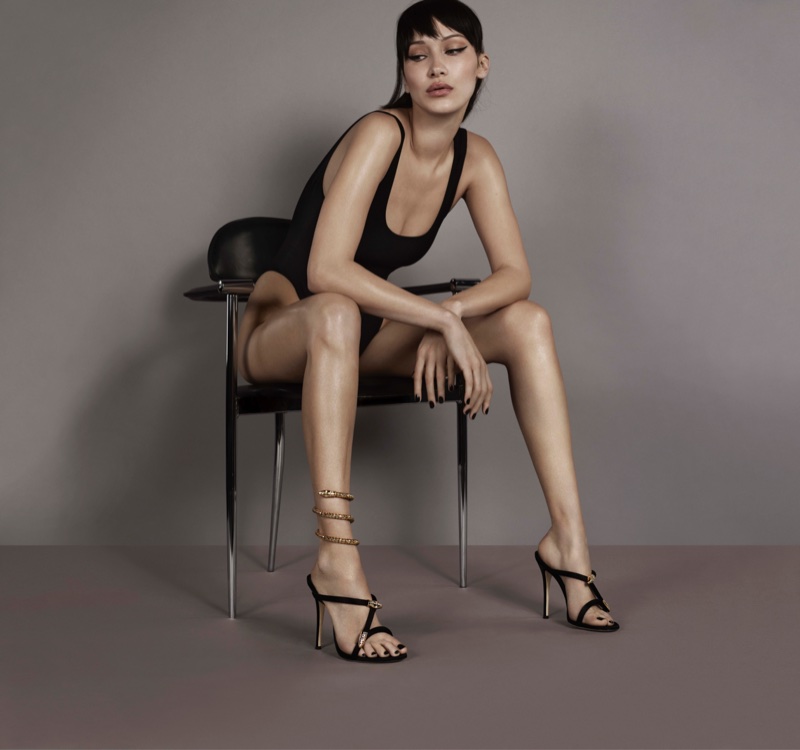 An image from Giuseppe Zanotti's spring 2018 advertising campaign starring Bella Hadid
comnum(0) tbcount(0) tbcount(404)
Categories:
Other Brands
When Balenciaga is not making Ikea-inspired tote bag, they will take their time to craft something minimalistic. Like for example, this Balenciaga Everyday Camera Bag. We love it not because it's called everyday, but because of the simple look. We also adore it because Camera Bags are trending right now. So introduced for the Cruise 2018 Collection, let's talk camera now.
The Design
A simple but classic look, the Everyday Camera Bag is created to match any style in your wardrobe, especially if you pick the classic black shade. This Camera Bag is designed in boxy rectangle shape, but the edges are curved. You can also feel that this bag is quite flexible and smooth.
The Balenciaga logo has been crafted in the center, plain and simple! With one glance, everyone will know you're carrying a high fashion beauty.
This bag also comes with a long leather strap, which can be detached. By removing the leather strap, you can use this bag as a clutch (but it would look much more like an evening pouch). If you turn the back around, it's crafted with a backpocket. Use this pocket to store your instant-essentials.
The Everyday Camera Bag is made from calf leather, which gives you a luxury touch but it's durable as well. The overall look of this bag is simple but gorgeous, and it will definitely never go out of style.
The Interior
The inside of this bag is as simple as the exterior. There is one main compartment inside. This bag is big enough to store all your daily stuff like your iPhone and wallets.
The Prices And Sizes
Measuring 12 x 17 x 5 (H x W x D) cm, priced at $950 USD, €650 euro, £625 GBP, $1180 AUD, $7900 HKD, $1430 SGD, ¥120960 JPY.
Where To Shop The Valentino Garavani Free Rockstud Spike Camera Bag?
1. Farfetch – go directly here to find this handbag in classic black shade.
2. MyTheresa – you can also find this handbag here.
3. Matches Fashion – the pink version is available here.
4. Farfetch – via think link, you might also find this camera bag in other colors.
More Colors And Images
comnum(0) tbcount(0) tbcount(536)
Categories:
Other Brands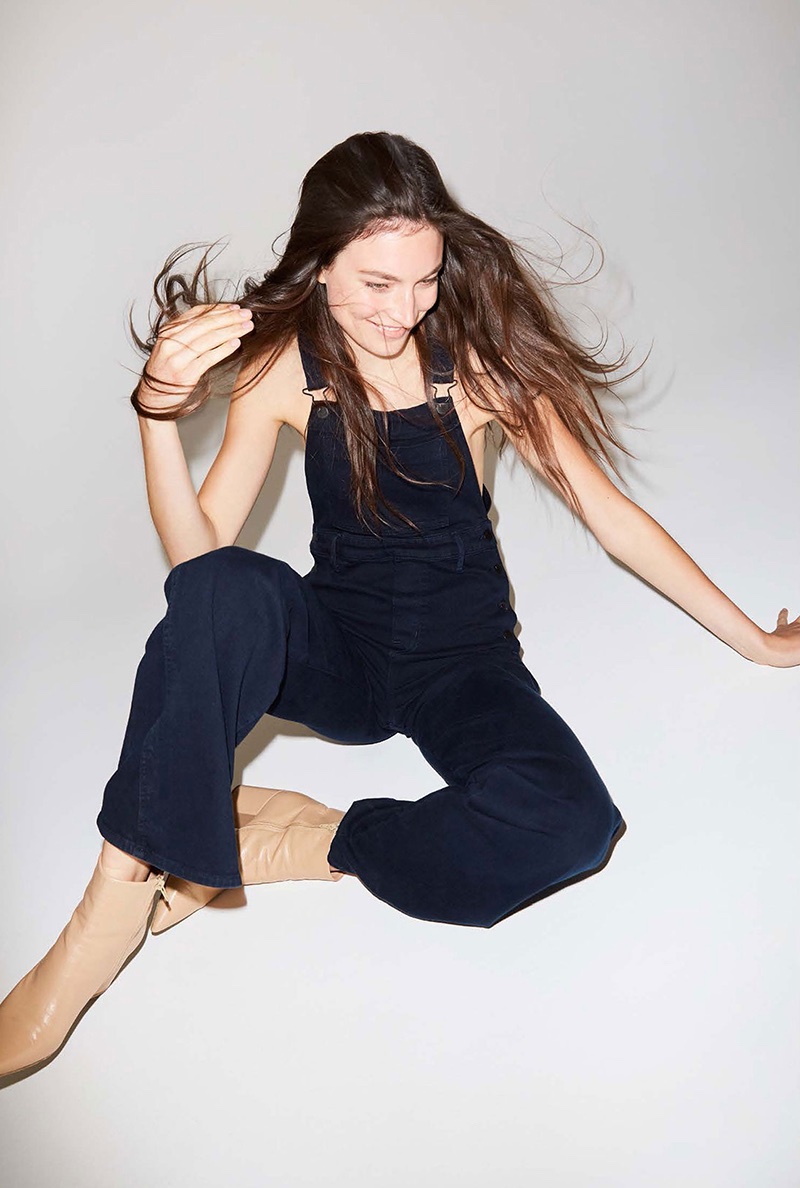 J Brand Slim Overall in Tame
Jacquelyn Jablonski goes back to basics as the face of J Brand'spre-spring 2018 collection. The American model joins her boyfriend Brett Robinson for a series of images captured by Magnus Unnar. Jacquelyn poses in cropped denim jackets, high-waisted jeans and casual tees for the studio portraits. Posing alongside her boyfriend, the brunette exudes pure cool in each shot.
Related: Discover J. Brand & Bella Freud's Denim Collaboration
J BRAND PRE-SPRING 2018 LOOKBOOK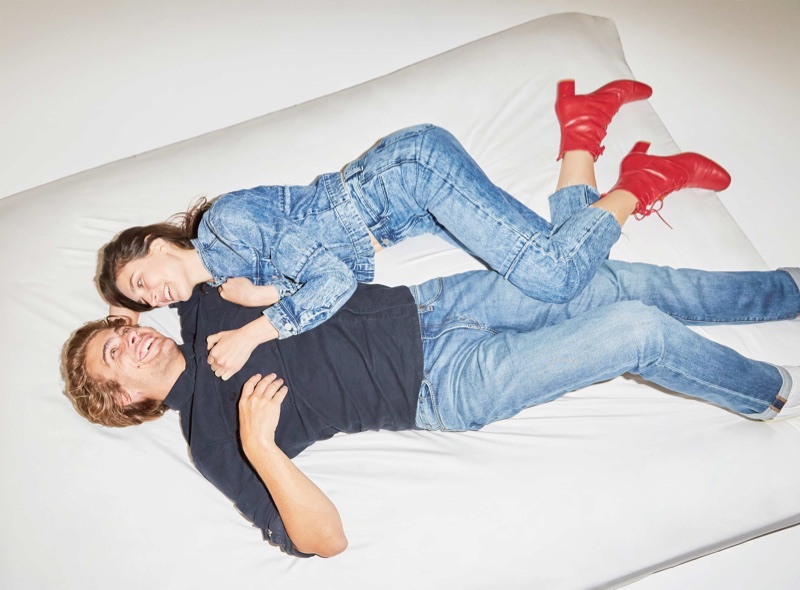 J Brand 'The Mai' Cropped Jacket and The 'Ruby' High-Rise Cropped Cigarette in Satellite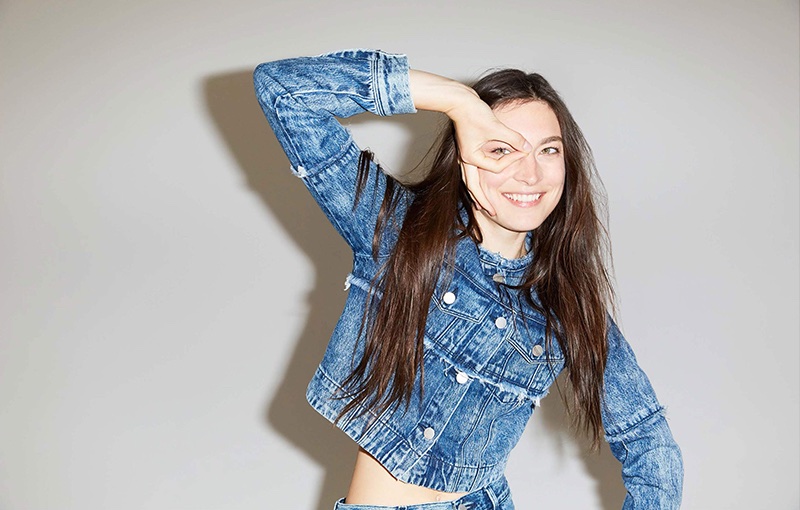 J Brand 'The Mai' Cropped Jacket and The 'Ruby' High-Rise Cropped Cigarette in Satellite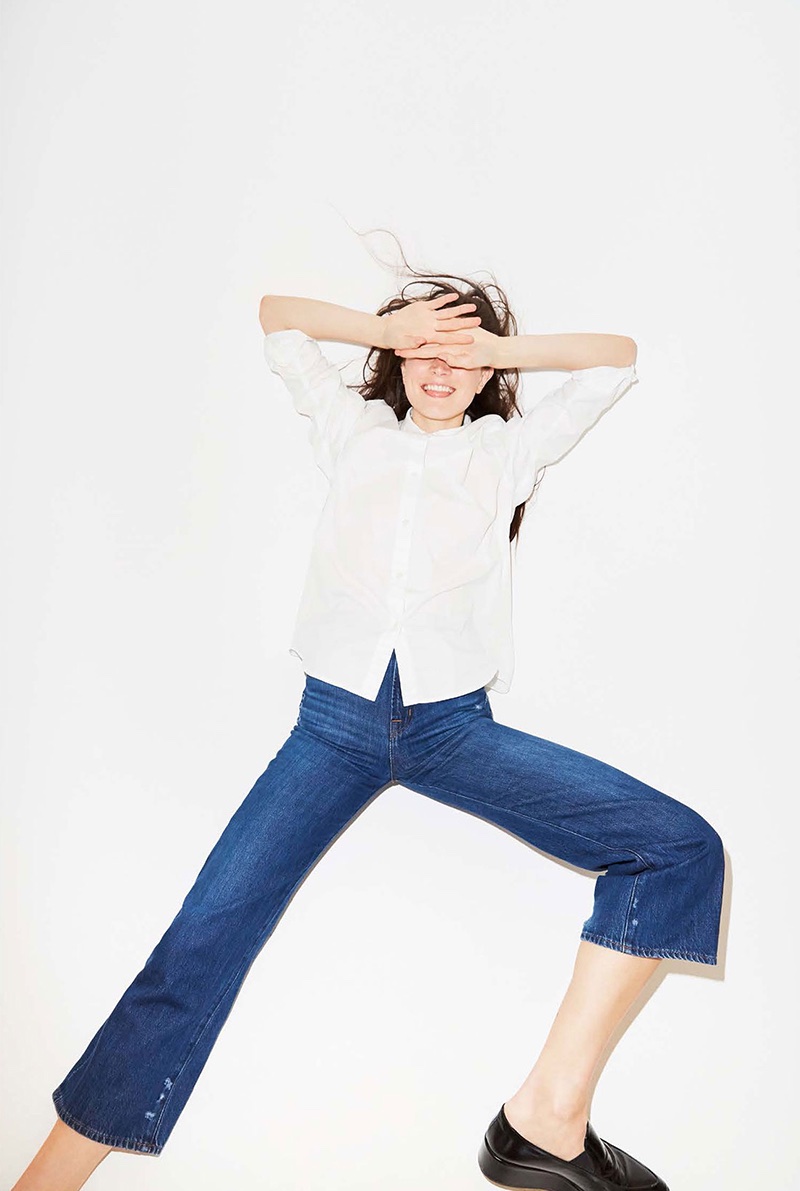 J Brand 'Briley' Oversized Shirt and 'Joan' High-Rise Wide Leg Crop in Doubletake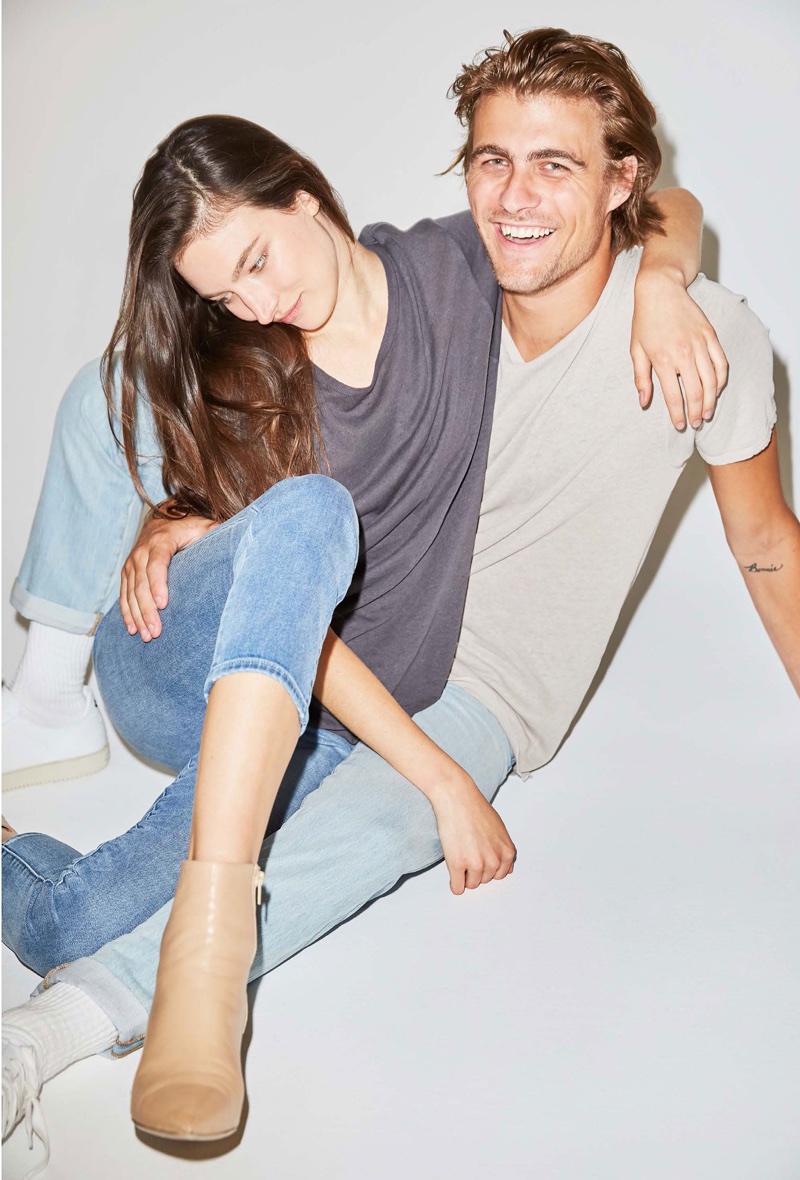 J Brand Short Sleeve 'Grandpa' Tee in Worn Iron and 'Ruby' High-Rise Cropped Cigarette in Utopia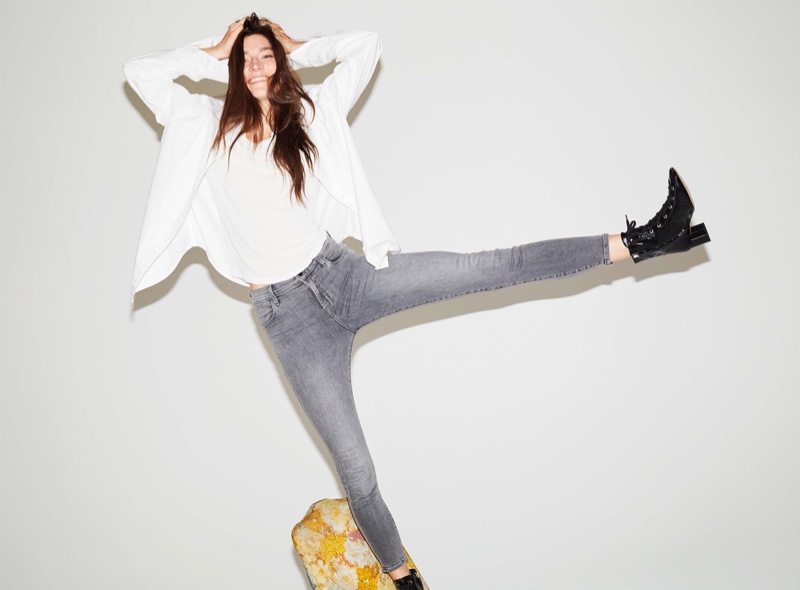 J Brand 'Briley' Oversized Shirt and The 'Nerd' Tee in White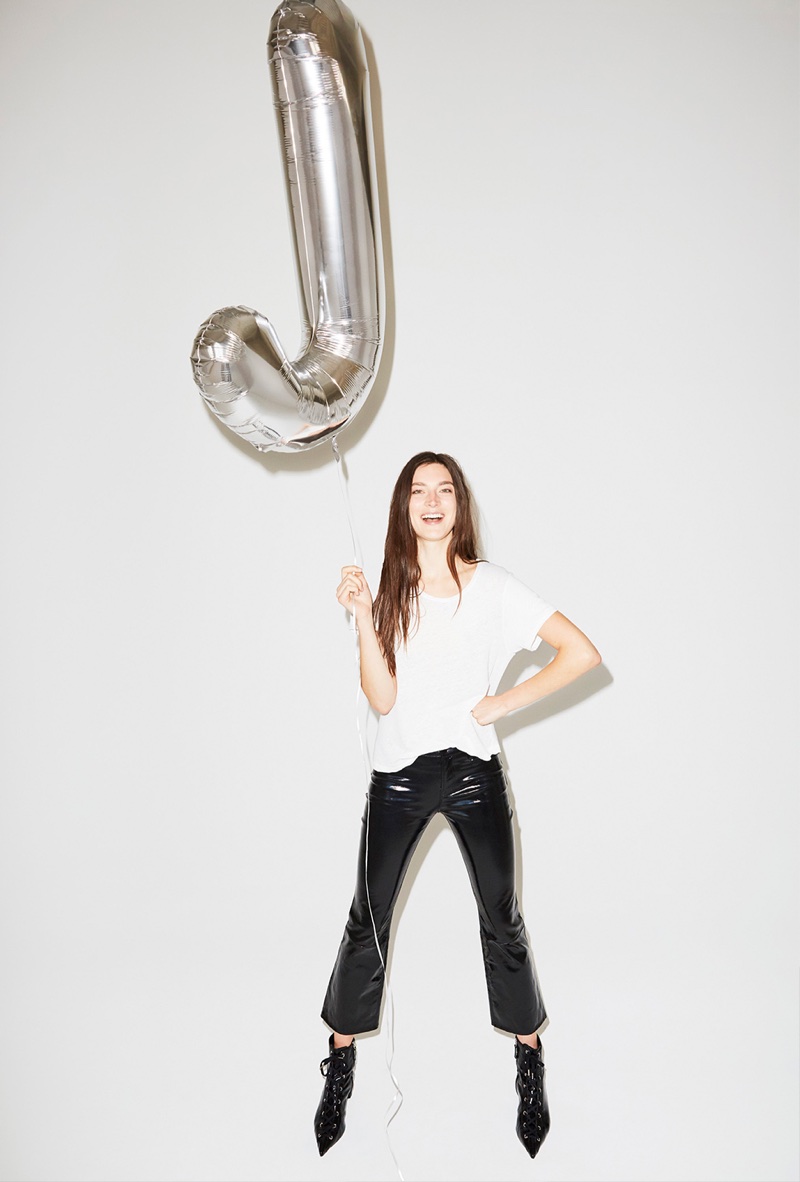 J Brand 'The Nerd' Tee in White and 'The Selena' in Black Patent Leather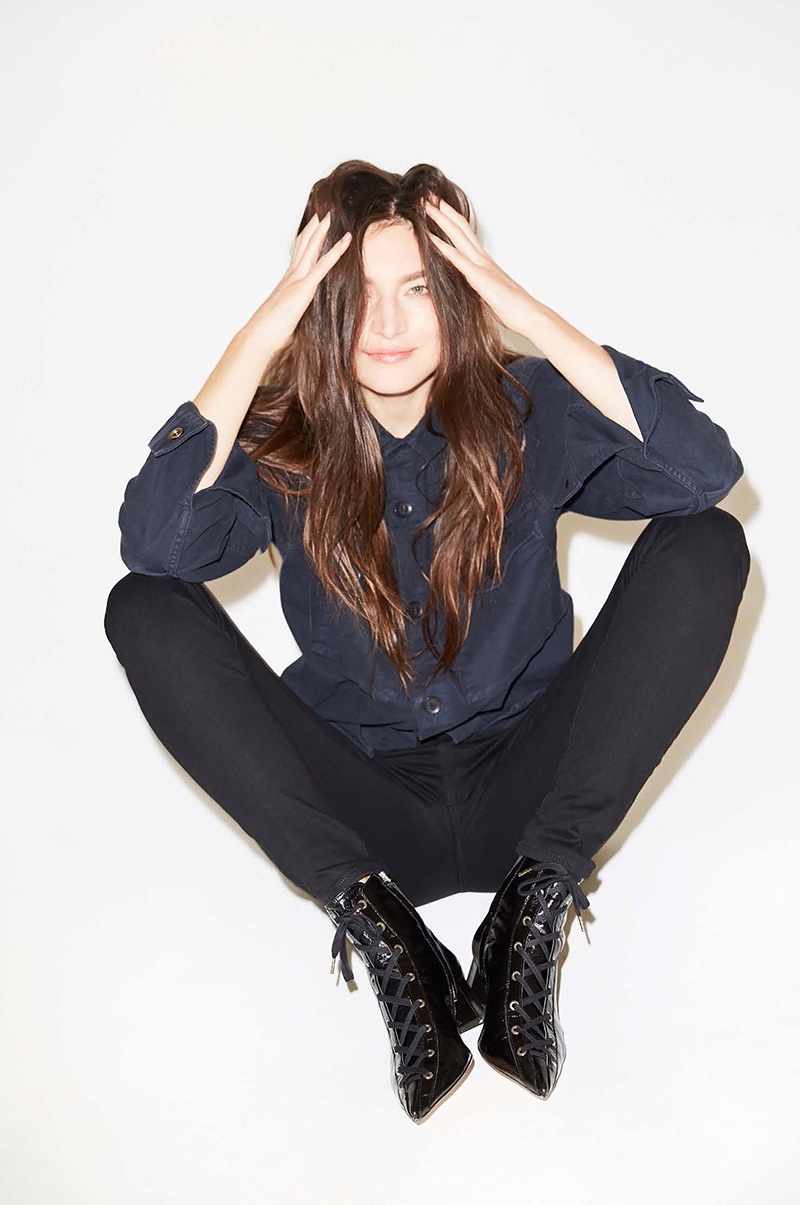 J Brand 'Muttnik' Jacket in Epicenter and 'Maria' High-Rise Super Skinny in Photo Ready Vanity
comnum(0) tbcount(0) tbcount(401)
Categories:
Other Brands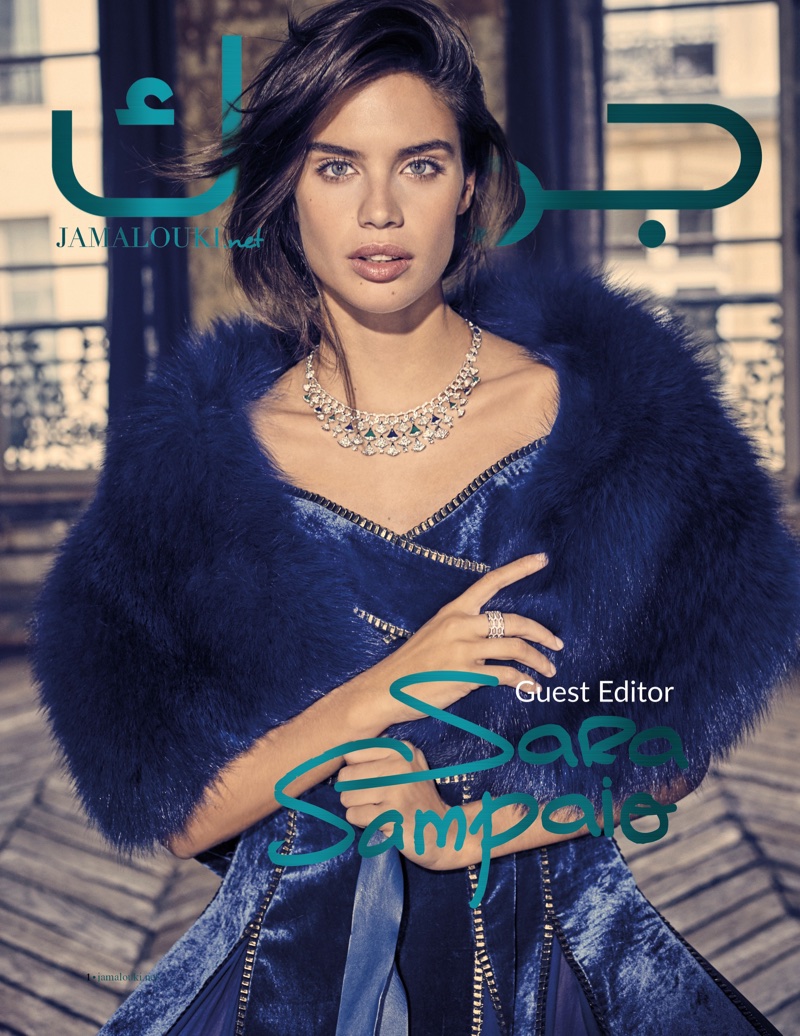 Sara Sampaio on Jamalouki Magazine December 2017 Cover
Catch up with the top stories from the past week in December.
Editorials:
Sara Sampaio Dazzles in Haute Couture Gowns for Jamalouki Magazine
Arizona Muse Poses in the Season's Prettiest Dresses for Harper's Bazaar UK
Alessandra Ambrosio Gets Draped in Luxe Coats for Vogue Portugal
Georgia Fowler Takes On Chic City Style for ELLE
Romee Strijd Looks Sporty Glam in ELLE UK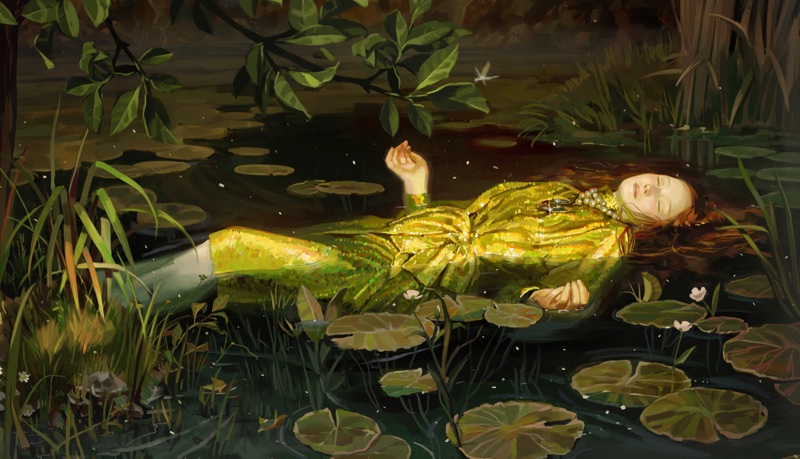 Gucci unveils spring-summer 2018 campaign
Campaigns/Lookbooks:
Gucci Gets Illustrated with 'Utopian Fantasy' Spring 2018 Campaign
Luxed-Up Lingerie: 6 H&M Holiday Underwear Styles
Beauty Fix: 5 New Ads from Estée Lauder, L'Oreal Paris, Marc Jacobs + More
Edita Vilkeviciute Enchants in Michael Kors 'Sexy Ruby' Fragrance Ad
Amber Valletta Enchants in Blumarine's Spring 2018 Campaign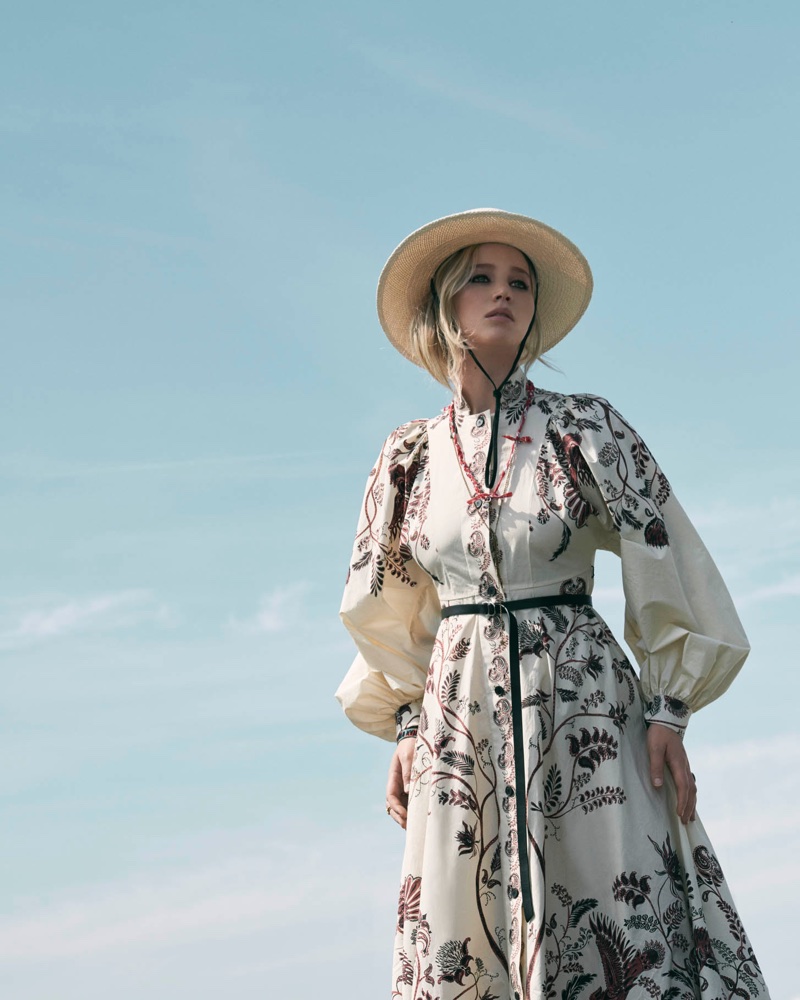 Jennifer Lawrence poses in Dior's resort 2018 collection
Celebrities:
Jennifer Lawrence Takes to the Sky in Dior's Resort Styles
Rihanna Wows in Fenty Beauty's Newest Lipstick Shades
Cate Blanchett Dazzles in New Giorgio Armani 'Sì' Campaign
Diane Kruger Poses in Sleek Fashions for Modern Luxury Magazine
Jessica Chastain Poses in Retro Styles for ES Magazine
Categories

New Posts

Hot Posts